Erik Jacobsen I live here
Hasselager, Denmark
A Cake

July 31, 2011:A very nice cake my daughter and her boyfriends friend made for me. It must have been because it was Harry Potters birthday.
A Video

February 19, 2010: A video - and maybe more to come
Cool !
October 23, 2009
: I'll use this Ubuntu from day 1 (or 2), on my laptop. Check out
ubuntu.com
.
October 31, 2009, update: Updated from 9.04 with no problems.
All was well.
July 21, 2007: I cheated! Before I started reading "Harry Potter and the Deathly Hallows" I quickly glanced at the last page, and read the very last sentence. Then I read this last sentence again just about 12 hours later, after reading the rest of the book. It made sense.
Don't cheat. Read the book as it is supposed to be read. If not the best, at least one of the best of all the seven books.
.
My own 128 bit integer

May 9, 2007 This is my 128 bit number: 438DEEE17E132CB265AE309187A9BD52 - written in hex. It was made on freedom-to-tinker.com. Please do not publish my number or use it for any computation, without my permission.
If this sounds like a strange statement, then read this.
Can you beat my score?
April 7, 2007: Anders and I played Monkey Kick Off at miniclip.com, and I got a good score I guess. So, can you beat my score?.
(update April 15) Anders has a cousin, Emil, and Emil got a better score.
(update May 4) Using a slightly different technique I got further into Monkey Village. I even beat Emils score!!
Anders is 6 years old
March 20, 2007: Would you believe it: Anders is 6 years old, and starts in school in August.
So we had some snow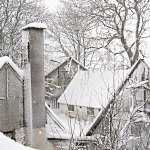 February 22, 2007: Winter came at last. Lots of snow. We had to stay home a few days, as there was absolutely no way to get the car out, and it was practically impossible to walk.

But we had food and Internet - don't worry, be happy.